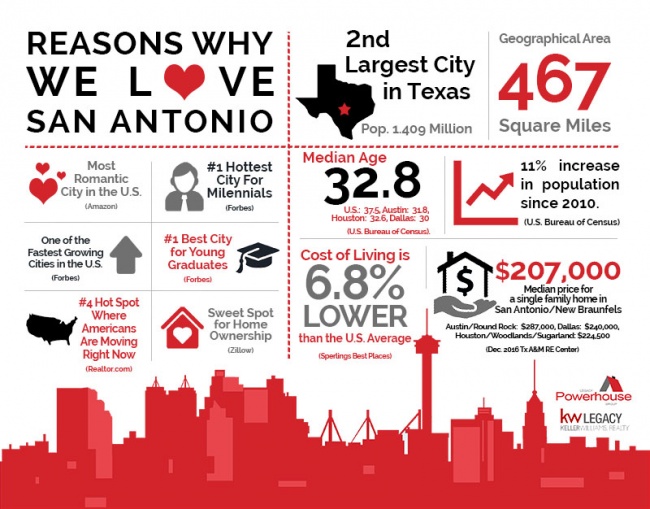 We are so lucky to be living in an amazing city like San Antonio, Texas. Aside from what we mention in the infographic above, here are just a few more reasons to love living in the River City.

Rich History
The city was named in 1691 and established in 1718, giving San Antonio a full and fascinating history. Of course, the first thing most people think of is the Alamo, which still sits in the very center of town. But San Antonio is also home to the oldest standing church in Texas, San Fernando Cathedral, and the oldest city-built theater in the United States, Playhouse San Antonio. San Pedro Springs Park is the oldest park in Texas. All of this history gives us our fair share of ghost stories, too! San Antonio is a fascinating place to live!

Military Connections
San Antonio is also known as Military City, USA, with Joint Base San Antonio Fort Sam Houston , Joint Base San Antonio Lackland Air Force Base , and Joint Base San Antonio Randolph Air Force Base all being housed here. There's a strong military presence in the city, and people here are appreciative of the men and women in the armed forces who call San Antonio home, however briefly. Not only do members of our military train here, but this is also where they come to heal. Many injured men and women come to the San Antonio Military Medical Center at Fort Sam Houston, and local researchers have become national leaders in research and treatment of post-traumatic stress disorder.

The Food
We hardly need to expand on this, considering that San Antonio has the best Tex Mex food in the country. But we have so much more. Southtown restaurants alone offer Cajun shrimp, Belgian mussels, and American dining all within walking distance from each other. Visit the Riverwalk and you'll find German, French, Italian, Spanish, Seafood, and Barbecue all nestled within blocks. Our annual event Culinaria tickles our tastebuds each year.

We Know How To Party
There's always a reason for celebrating in San Antonio! Fiesta, a two-week long city party, will be celebrating it's 126th birthday in 2017. It takes place every April and features dozens of events – something for everyone! But that's not all! We also have the San Antonio Rodeo in February, Siclovia in March, Poteet Strawberry Festival (just a short drive away) in April, Cinco de Mayo and Culinaria in May, Texas Folklife Festival in June, Oktoberfest in October, and Luminaria in November, among many, many more celebrations. We know how to have a good time!

The Weather
Though July and August may be sweltering, San Antonians enjoy a beautiful climate for most of the year. We rarely experience the beauty of snow, but we trade it for gorgeous 60 degree sunny days in January. And when it is hot, we know how to cool off, with waterparks at Six Flags Fiesta Texas, Sea World San Antonio, Schlitterbahn and Splashtown USA!